SuperEnalotto tickets – Where to Play?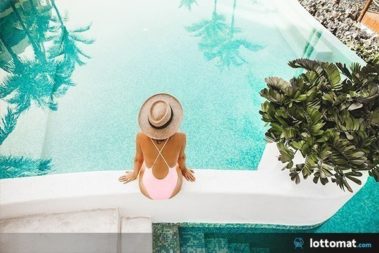 Would you like to become a millionaire in a twinkling of an eye? Do you want to have so much money that it will be possible to change your entire life? Beyond a shadow of a doubt, you would like to live a really luxurious life! Then, you should try to buy SuperEnalotto tickets online!
SuperEnalotto is a unique numerous lottery which has six basic prize tiers and eight additional prize tiers. In point of fact, this game will bring you money even for matching only one number which is absolutely impossible in the majority of other world lotteries. Would you like to try this fantastic lottery game? Then, learn where to play SuperEnalotto online!
Playing SuperEnalotto online means purchasing a tickets and filling this tickets with the numbers you believe to be lucky. It means that in order to know where to play Superenalotto online, you need to learn where to buy SuperEnalotto tickets.
A standard place where you can purchase your lottery tickets is a lottery outlet. This is an official place which is offering tickets for a particular lottery as well as a place where you can claim your prize in case of winning. When it comes to SuperEnalotto tickets, you will be able to visit such an outlet exclusively in Italy. The same is true in the case of other land-based places of lottery ticket distribution. You can get your ticket in a grocery store, gas station or other shops in Italy.
Then, what should you do providing you are not a resident or visitor of this beautiful country? Don't worry, you can still play this lottery game!
Due to the modern technology, playing SuperEnalotto online is now available. You can visit a website of any top online lottery ticket vendor such as Lottomat.com.
Purchasing a lottery ticket on such websites is extremely simple. You just need to choose when you want to participate in a SuperEnalotto play and pick the numbers which you want to choose in a drawing. If you do not have any ideas how to choose the numbers for a drawing, you can use a free quick-pick option which is a random number generator. The generator will fill your ticket with absolutely random numbers. Providing you want to use particular numbers for a drawing, you can use the option of checking the numbers before purchasing your ticket. It is advised to do so in order to avoid any mistakes.
Finally, you will be able to choose one of the most comfortable and safe payment methods. Once you get your ticket, you should wait for the results which are also available on the website of your ticket vendor.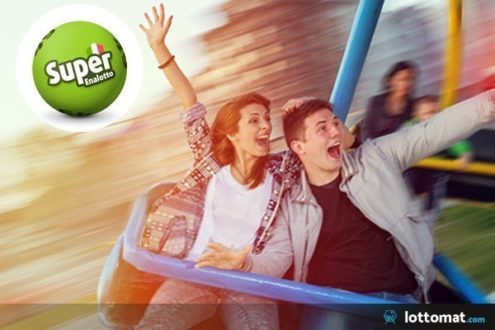 A Strategy for Playing SuperEnalotto online
While some lottery players use a random number generator for playing SuperEnalotto online, there are many people who would like to use some other tools for picking their lottery numbers. Yet, it is not obvious which strategy is the best. Let's try to answer this question together!
In point of fact, the only strategy for playing lotteries which is using a scientific approach is a statistics-based strategy. This method relies on so-called hot and cold lottery numbers. Those people who believe that the numbers which have been frequently picked during the latest drawings, will be picked on the next SuperEnalotto drawing date again, choose the hot number. For the time being, these numbers are 85, 86, 1, 81, 77 and 90. On the contrary, he cold numbers are chosen by the players who presume that the next jackpot will be won with the number which haven't been picked in the recent drawings. Now, the cold SuperEnalotto numbers are 5, 7, 23, 50, 59 and 60.
The idea of using statistics for the SuperEnalotto online current jackpot is very sensible. Yet, you shouldn't think that this method is the best. Furthermore, the outcome of using this strategy is still contingent on your luck. For instance, if you are lucky, you will choose exactly those hot numbers which will actually be drawn in the game. You also need luck in order to make the right decision whether to use cold numbers or hot. Moreover, you may decide to combine both cold and hot numbers and win your prize. It means that, although you are applying real statistics, your predictions are still based on your intuition or some superstitions. What does it mean?
It means that you shouldn't be too skeptical about the use of your own lucky numbers while buying SuperEnalotto tickets online or any other numeric lottery game. Since all the SuperEnalotto numbers have the same chances of being drawn during a game, your own numbers can be as lucky as all those official cold and hot numbers. Remember that there are thousands of players around the world who had used the dates of birth, weddings as well as many numbers related to some absolutely strange situations which turned out to be extremely successful. For example, Bernie Bobowicz won on a lottery twice! The first winning of more than three million dollars was due to his old army dog-tag numbers. The next winning was brought to him by the numbers he found in the Bible. What do you think about such coincidence?
Sometimes people are playing the same game with the same numbers and finally become winners of a jackpot. In other cases, they are playing the same game with the same numbers unsuccessfully and decide to play another game with the same numbers. Just when they switch to another game, they become the winners of a jackpot right in the first drawing of a new lottery they have chosen!
As far as you can see, the results of official lottery games are as unpredictable, as your own life. Then, listen to your intuition and choose any numbers you like for playing SuperEnalotto and buy tickets online!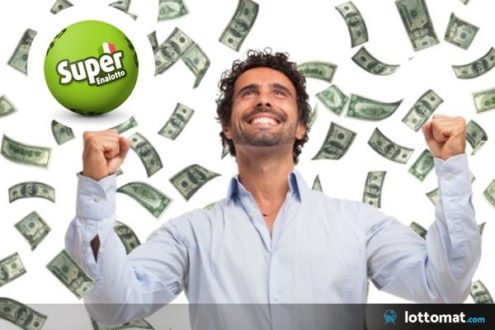 Interesting Facts about SuperEnalotto online
Are you a real devotee of SuperEnalotto online? In case you are, you probably think you know everything about this extremely popular European lottery game. We bet you don't know! Look through these interesting facts about this lottery and you will learn a lot of amusing things about SuperEnalotto!
For example, do you know about a way of playing SuperEnalotto which had been used before the year of 2009? Then, the six main numbers and a Jolly number used to be drawn in different parts of Italy! Thus, each SuperEnalotto drawing was held in Bari, Florence, Milan, Naples, Palermo, Rome and Venice. The first six cities used to organise drawings for the six main numbers whereas a Jolly number used to be drawn in Venice. The rule of the game didn't allow the same numbers to be drawn for the same combination in the same drawing. For instance, when a drawing in Milan brought a number which was then drawn in Palermo, the drawing of a number in Palermo was repeated.
You certainly know about the greatest jackpot which has been drawn so far. That spectacular prize was equal to €177.8 million and the drawing was held in October 2010. Still, do you know for how long the rollover had lasted before a winner got the prize? The rollover had lasted almost for nine months! The battle for the greatest prize was really severe and long.
Beyond a shadow of a doubt, playing a lottery game is a very good way for earning big money without doing any back-breaking job. Yet, it is also an excellent form of entertainment which gives lottery players a boost of positive emotions, thrill and hope. As a result, not only ordinary people are crazy about playing lotteries, but also many celebrities. SuperEnalotto online is a lottery which has attracted such stars of show business as Madonna and George Clooney. For example, Madonna purchased a hundred of lottery tickets when she visited Italy on her tour in 2012. Furthermore, she won a second-tier prize on SuperEnalotto and received €120,000. The popular singer used this money for building schools in Malawi. As far as you can see, absolutely different people have the same chances of winning on SuperEnalotto online. Check the results of the drawing now, you can be a person who won the SuperEnalotto online today!
Finally, there is another interesting fact about this fantastic lottery game. Just imagine that not so long ago, all the SuperEnalotto prizes were tax free! Even the greatest jackpots were tax free! As for today, all the prizes over €500 are taxable at 6%. Although there is more fun in playing a lottery without an obligation to pay taxes for your winnings, you should pay your attention to the fact that this size of taxes is smaller than the size of taxes in case of the majority of world lotteries.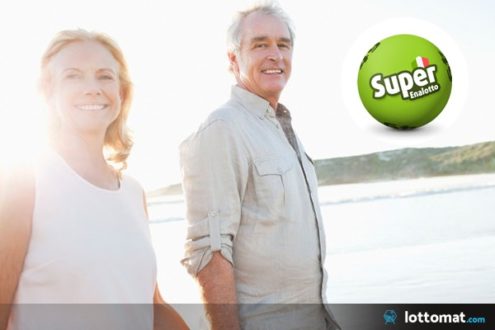 The Greatest Winnings on SuperEnalotto
How many SuperEnalotto combinations are there which can bring you really big money? In point of fact, there are several combinations of numbers which will make you rich or just add a nice sum of money to your budget. For example, matching all the six SuperEnalotto numbers will give you a guaranteed jackpot of €1,3 million. Yet, few players have won exactly this sum since the majority of the SuperEnalotto winners received a far more bigger amount of money due to frequent lottery rollovers.
An average amount of money given to those players who won the SuperEnalotto second-tier prize is €311,000. Such a prize is given to the players who successfully match a combination of five main lottery numbers and a Jolly number.
Finally, matching five main numbers without a Jolly number will bring approximately €32,000 which is also a very nice prize.
Do not think it is the end of the possibilities offered by SuperEnalotto online. If you decide to add a SuperStar feature to your ticket, you will be able to participate in an extra drawing which offers eight prize tiers. Those players, who match six main numbers and a SuperStar number will get additional two million euros. One million will be added to the prize given to the players who match five main numbers, a Jolly number and a SuperStar number. When you match a SuperStar number and five main numbers, the prize is increased 25 times, whereas matching four main numbers and a SuperStar number will multiply your prize a hundred times.
Now, you can see what combinations of numbers can bring you really big money on SuperEnalotto online. Of course, you shouldn't forget about all additional lowest-tier prizes which can also turn out to be a pleasant award for your participation in the drawing.
Beyond a shadow of a doubt, such possibilities of winning on this popular game have already attracted your attention. Yet, you should know about the real cases of the winners of the greatest SuperEnalotto jackpots.
How many SuperEnalotto winners earned more than a hundred million euros on this lottery game? The most recent drawing which brought €163.5 million to the holder of a lucky ticket was held on November 27, 2016. The winner of this prize was from Vibo Valentia, Calabria.
There were two winnings above a hundred millions of euros in 2010. First, two tickets purchased in Pistoia, Tuscany  and Parma, Emilia-Romagna won €139 million on February 9, 2010. Then, a group of seventy people won €117.7 million on November 30, 2010. The lucky ticket was purchased in Milan.
Ugo Verni from Bagnone, Tuscany won €147.8 million on August 22, 2009. The first drawing which brought more than a hundred of euros to a winner was held on November 23, 2008. Then, a ticket which was purchased in Catania, Sicily brought €100.7 million to its owner.
All of them decidet to spend small amount of monet to buy Superenalotto tickets.
These were several happy stories about the SuperEnalotto winners. Would you like to become one of them? Get your tickets for the next drawing and start playing SuperEnalotto online!