How to pay for lotto online?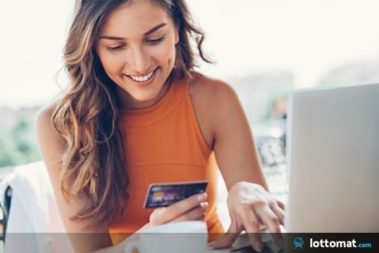 Why Lotto online is so popular?
For some time now, the game of lotto has become more and more available. This is because it is becoming easier and easier to access applications such as Lottomat.com and quick payments. Those two aspects make the game of the world lotteries easy, pleasant and, above all, safe. Check how to pay for lotto online.
Lottomat website allows you to make payments in many ways; our users can pay with credit cards – VISA, MASTERCARD.
However, in order to smoothly go through the payment process, please remember to fill in the required fields through which you will be led by the payment operator. Very often, the reason for rejecting a transaction is a lack of necessary data or incorrect filling in the required fields. It can also happen when a player logs in from a different IP than the country in which his card was issued. There are also situations where the card payment cannot be verified because the card was issued by a bank in a country that does not support credit card operators – for example, the USA, China, Norway, Turkey.
How to pay for lotto online – Credit cards
Many of our players use the REVOLUT card, which as a MASTERCARD works quickly in our service. Opening an account takes a few minutes and is extremely easy and receiving a card is just a few days. Recharging this card with additional funds is also extremely simple and safe. There must be something about it because 8 million customers are already using this card. What's more, the basic account is free, and such an account is enough to play freely and safely on our site.
Below is a list of countries that offer Revolut;
Europe;
Austria
Belgium
Bulgaria
Cyprus
Czech Republic
Germany
Danmark
Estonia
Spain
Finland
France
United Kingdom
Greece
Croatia
Hungary
Ireland
Iceland
Italy
Liechtenstein
Lithuania
Luxembourg
Latvia
Malta
Netherlands
Norway
Poland
Portugal
Romania
Sweden
Slovenia
Slovakia
America;
United States
Bonaire
Brazil – available soon
Canada – available soon

Asia & Pacific;
United Arab Emirates coming soon
Australia
Hong Kong coming soon
Japan coming soon
New Zealand coming soon
Singapore
So as you can see, this is the coverage of virtually every country we support in providing lottery tickets for the biggest lotteries in the world.
If you want to check the effectiveness of this solution, you can easily create an account here; https://www.revolut.com/en-PL/change-country
Prepaid cards
However, if you still experience any problems with card payments, our service also offers alternative methods.
You can also pay for international lottery tickets with prepaid cards such as Astropay. – https://www.astropay.com/
The quick and easy way to purchase such a card. It gives you the freedom to buy lottery tickets such as Mega Millions, Euromillions, Eurojackpot or Powerball.
E-wallets
Besides, to play on our site, your account can also be funded by a standard bank transfer, cryptocurrencies or electronic wallets. The most commonly accepted electronic wallets are Skrill and Neteller.
Bank transfers
Bank transfers are quite popular because a one-time deposit allows you to shop around without having to use your credit card to buy tickets.
Some players consider this method to be the safest because, in this model, you do not transfer your data to anyone except the bank that operates your account. But as they say, there are as many people as there are opinions. The most important thing is to be sure that you use a trusted website. If you buy tickets on a trusted site with good security and protection tools, all payment methods are secure.
So far, all our players are satisfied and, what's, even more, important – safe. This allows them to enjoy the possibility of participating in the world's largest lotteries, often reaching gigantic jackpots.
In addition, to secure payments, our players have constant access to their accounts, where after logging in they can keep track of the status of their purchases, payment methods, selected lotteries and numbers or see their scanned coupons. What is more – Lottomat keeps them informed via e-mail about all activities within the account, from information about selected numbers to drawn numbers.
Now, when you know how to pay for lotto online you have to try to play to be able to enjoy all of our lotteries. Maybe today it is your day – you won't find out if you don't try – good luck.