8 crazy ideas for what to do with lottery winnings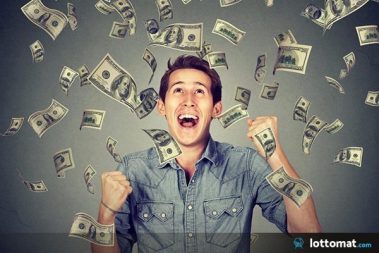 What to do with lottery winnings? What to spend millions of dollars for? These are questions that even those who don't play lotteries tend to ask themselves. Plenty of them will find rational answers: pay debts, invest in real estate, set up a fund. Others will let their imagination loose a little and mention things like a luxury car or travels. Then there are those who will think: hey, now that I have millions to my name, I can really go wild!
We present 8 irrational ideas for what to do with millions in lottery winnings. These aren't necessarily the wisest solutions or ones that make one happy the most. But think about it for a moment – you can buy a ticket for a spaceflight or get a diamond manicure!
1. Buying a private jet
Just think about it – you can fly to every corner of the world any time. Feel like going on a weekend trip to Las Vegas with friends? Taking a spontaneous flight to one of the exotic paradise islands? No problem, the airplane is there waiting. Nobody says you have to pilot it yourself. Millions in lottery winnings also mean hiring a pilot full-time and not worrying about gas. Remember: you're on vacation for the rest of your life. Which means that it's worth traveling wherever you want, whenever you want.
What's the price of a private jet?
Depending on the aircraft's size, quality and year of manufacture, the prices might vary a lot. For example, a small-sized 1980 Cessna Citation II can be bought for less than 300 thousand dollars. A bigger and better equipped 2000 Hawker 800XP goes for around 2.5 million dollars. Then for the biggest spendthrifts there's also the Gulfstream G450. A brand new one will cost you about 40 million dollars.
2. A dinner with the president of the United States
You may support him or be against him. You may like him or not. You may think many things about him, but there's one thing you can't deny about him: he's not only one of the most powerful people in the world, but he's also one of a kind. Regardless of political preferences, a dinner with Donald Trump would be an unforgettable experience.
In 2017 it became possible to sit at one table with the president of the United States. The offer was targeted at couples. The president may not consider the option of regular paid meeting at the table, but hey! You have tens or hundreds of millions of dollars to your name. If you really want it and like to bargain, it is quite possible that the White House may not say no to you…
What's the price of a dinner with the president?
In 2017, accompanying Donald Trump at a table was priced at 250 thousand dollars per couple. And how much would you have to pay to negotiate a dinner together on individual terms? You would have to ask the president himself about that.
3. A spaceflight
The topic of space tourism was picked up by the media about 30 years ago, when the first civilian left the Earth's orbit. Over time, however, the media hype went down, but recently the topic has been back in the air thanks to companies like SpaceX, Blue Origin or Virgin Galactic. The latter is already selling tickets for orbital flights (about 100 km above the sea level), and a similar service is being planned by Blue Origin, although they're not selling tickets yet. SpaceX, on the other hand, is planning to offer one week trips around the Moon as early as 2019.
What's the price of a spaceflight?
Tickets at Virgin Galactic cost 250 thousand dollars. Not so much relatively speaking, if we compare it with the cost of a trip around the Moon from SpaceX, which is going to cost… 300 million dollars! But if we take into account that the American Powerball lottery has had winnings of 1,5 billion dollars or 750 million, then financing a space vacation doesn't seem impossible at all.
4. A cruise around the world aboard a luxury ship
There are many ways to travel. Especially if you're a multimillionaire on a lifelong vacation. Purchasing a private jet is one of the options. Another is a slow, peaceful and wonderful cruise aboard a luxury ship. With the starting point at the western coast of the United States, in 115 days you can visit 49 ports in different countries, including Australia, Hong Kong, Vietnam, Madagascar or Maldives.
What's the price of a cruise around the world?
A 115 day cruise aboard a luxury ship offered by the Silversea World Cruise costs 346 thousand dollars.
5. The most expensive manicure in the world
That's an idea targeted at ladies who not only like to take care of themselves, but have also won the lottery. Forget about gel or hybrid nails, usual colors and nice patterns. There's a company that offers an "Iced Manicure" service consisting of decorating nails with 10 carat diamonds. The style is reminiscent of French manicure, except that instead of white tips, here the nails' tips are diamond. Literally.
What's the price of the most expensive manicure in the world?
The "Iced Manicure" service costs about 51 thousand dollars.
6. A stay at the most expensive hotel in the world
Alright, let's be honest: having dozens or hundreds of millions of dollars to your name after winning large amounts in the lottery, you can buy yourself a dream house or even a palace. Living in a hotel, on the other hand, is something different. It's about this specific, elusive atmosphere of the place, the top-tier service and amenities. One of the most luxurious and expensive stays can be arranged at the President Wilson Hotel located among the Swiss Alps. It's not even just a room – we have a whole suite at our disposal with 12 bedrooms, 12 bathrooms, private gym and giant terrace with a view of the mountains. Have we mentioned that the suite, on top of all the conveniences known to man, also has a grand piano?
What's the price of a stay at the most expensive hotel in the world?
One night at a luxurious suite of the Swiss President Wilson hotel costs 83 thousand dollars.
7. Buying a sports team
After hitting the jackpot, you can buy a house (or few of them) or a car (or a whole fleet). But how about going wild and – which is pretty unconventional – buying yourself a sports team instead? It would be difficult to spend lottery winnings on buying your dream team if you're a fan of FC Barcelona or Los Angeles Lakers, the prices of which are counted in billions of dollars. But there are also cheaper options for the greatest sport fans. And just think about the joy of owning your own team!
What's the price of buying a sports team?
You may as well forget about NBA league teams, but for example the world of hockey turns out to be slightly cheaper than basketball – here you can purchase a professional, top league team for as low as 200 million dollars. And if the lottery winnings were smaller, you can always look around for football teams of a slightly lower tier that are worth dozens of millions.
8. Private concert by music stars
When you win the lottery and like to have a good time, wild, expensive parties with friends become a norm. But how about taking it a step further and having a private concert for yourself and for them? With millions in your pocket, you can hire any artist to play just for you. Just rent the right place (like an arena) and reach the band manager or artist to make your dream come true.
What's the price of a private concert?
Local-level stars will usually charge tens of thousands for giving a private concert. If we wanted to have Justin Bieber or Madonna sing for us, though, we'd have to pony up over a million dollars.